Asignaturas Interdisciplinares
European Cinema: a Reflection on European Identity
This course examines pressing European social and political subjects in present European cinema. In discussing current trends in European identity, students will be familiarized with European most influential sociological, political and artistic discussions regarding European identity, as well as be introduced to the works of some of the most influential European filmmakers. Students will watch and discuss films as well as significant visual culture materials, including short films and documentaries.
Ordered thematically, this course offers a multidisciplinary approach on intertwined areas regarding the notion of identity such as sociology, political science, literature, art, critical theory and everyday life through cinema. This course encourages students' active participation and in-class debate on contemporary European political, cultural and artistic discussions and controversies.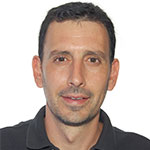 Profesor de European Cinema: a Reflection on European Identity
Fernando Herrero Matoses, PhD.
Doctor por la Universidad de Illinois (EEUU), postgrado en Literatura y Teoría Literaria por la Universidad de Valencia. Licenciado en Filología Hispánica por la Universidad de Valencia. Ha sido docente entre otros centros, en la Universidad de Illinois, en Boston University Global Campus y en la Universidad de Nebrija. Sus líneas de investigación y docencia giran en torno a las conexiones entre el arte y la literatura. Ha colaborado en instituciones culturales como el Museo Nacional Centro de Arte Reina Sofía en Madrid, el Museo de Arte Contemporaneo de Barcelona o la Phillips Collection de Washington D.C. Ha publicado artículos entre otros sobre Antonio Muñoz Molina, Gerhard Richter y W.G Sebald, Julio Cortázar o Juan Muñoz.