Asignaturas Interdisciplinares
Issues and assets of audiovisual communication
Playful, critical and subversive experimentation with creative and immersive technologies.
You will become creative coders, audiovisual hackers, noise makers...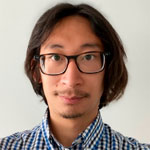 Professor of Issues and assets of audiovisual communication
Heda Weng
Doctorado en Bellas Artes, Product Management & Design Team Leader en StyleSage. Académicamente, su investigación se enfoca en creación interactiva, comunicación audiovisual y diseño de interfaz. Profesionalmente, tiene años de experiencia multidisciplinar como diseñador, creative coder, desarrollador web y product manager.