> Español
Interdisciplinary Learning Courses
Balanced Nutrition
Nutrition is that thing that everyone talks about but doesn't really know the science of it. Don't be like everyone else.
Do we eat healthy and safe? Do we know what we buy? In this course you will learn to balance your nutrition, discover the truth about social media diets, learn the difference between healthy and safe, and much more.
---
Learning objectives
Learn to organize a healthy menu.
Comprehend the complexity of the human body.
Differentiate between healthy and safe.
Be critical with the information we see on social media.
Be able to talk about nutrition knowing the reality of it.
Contents of the subject
Balanced Nutrition
1. Course presentation and welcoming class
2. Food, nutrition and metabolism, which is which?
3. Macro and micronutrients
4. The importance of water.
5. Nutritional status assessment.
6. Nutrition along life.
7. Sickness epidemiology due to food excess or deficit.
8. Environmental influence in eating behavior.
9. Sports nutrition.
10. Vegetarian and vegan diet.
11. Intermittent fasting.
12. Organic food, is it really that good?
13. Nutritional labeling.
14. Allergies and food intolerances
15. Farewell class.
---
Professor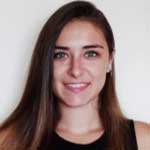 Professor of Balanced Nutrition
Kimberley Harris
Kimberley Harris is a Physical Activity and Sports Science Graduate, and Human Nutrition and Dietetics Graduate by the Universidad Europea del Atlántico, in Cantabria.
After being a personal and physical trainer for some time, she is now dedicated to nutrition. She has experience in new product research laboratories, and has recently worked as a Dietitian in the MD Anderson Cancer Center in Madrid.