The Gender and Society subject will grant you new clues to look and interpret what it has meant to be a woman and to be a man throughout history. Through a critical perspective, we will focus on distinguishing inequalities at the educational, economic, legal and political levels in the past and present.
But we will also weave an inspiring story that builds a genealogy with the examples of those who have rebelled against these asymmetries. All this will allow you to contemplate new possibilities regarding how gender manifests in your life, leading to intellectual and personal discoveries.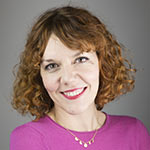 Professor of Gender and Society
María Vaíllo Rodríguez
María Vaíllo es Licenciada en Psicología por la Universidad de Salamanca y Doctora en Educación por la Universidad Complutense de Madrid, donde presentó una tesis doctoral sobre sexismo en los libros de texto. En materia de igualdad de oportunidades, ha trabajado para distintos organismos públicos, como el Ministerio de Educación o la Secretaría de Estado de Servicios Sociales e Igualdad. Además, ha creado formaciones específicas sobre temáticas de género para la Xunta de Galicia o la Federación Española de Municipios y Provincias. Actualmente es Directora de las Cátedras Nebrija de Investigación y participa en dos proyectos de investigación, financiados por el Ministerio de Sanidad, Servicios Sociales e Igualdad y el Ministerio de Economía, Industria y Competitividad, respectivamente.