The Gender and Society subject will grant you new clues to look and interpret what it has meant to be a woman and to be a man throughout history. Through a critical perspective, we will focus on distinguishing inequalities at the educational, economic, legal and political levels in the past and present.
But we will also weave an inspiring story that builds a genealogy with the examples of those who have rebelled against these asymmetries. All this will allow you to contemplate new possibilities regarding how gender manifests in your life, leading to intellectual and personal discoveries.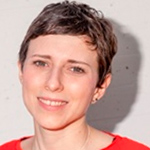 Professor of Gender and Society
María Martínez-Delgado Veiga
María Martínez-Delgado Veiga cuenta con el Máster en Lingüística aplicada a la enseñanza de español como lengua extranjera (E/LE) por la Universidad Nebrija y con el Máster en Sociocultural Linguistics por Goldsmiths, University of London. Ha cursado el primer año del Doctorado en Estudios Interdisciplinares de Género en la Universidad de Alcalá de Henares. Tiene experiencia docente como profesora de lengua española, de E/LE y examinadora desde hace más de 8 años en España y en Reino Unido en diferentes instituciones y contextos. Ha desempeñado su labor en King's College London, University of Roehampton, London Business School, la Fundación Diagrama o ASILIM, entre otros. Actualmente colabora como profesora en la Universidad Nebrija. Sus áreas de interés son el análisis crítico del discurso con perspectiva feminista, las representaciones discursivas de género en diferentes contextos, como el judicial o la prensa y la perspectiva de género en el aula de E/LE.