Interdisciplinary Learning Courses
Green Volunteering: How to Be Green in Everyday Life
It is absurd to continue believing in infinite economic growth on a planet with finite resources. The only possible solution for a sustainable future is to change from a linear economy (based on taking, making and wasting) resources to a circular one (based on closing
loops of resources in the production and consumption of goods). Since nothing can ever be "thrown away" this course explores how to buy, use and dispose of commodities in an ethical and sustainable way. "Going green" has to be far more than a short-lived marketing trend.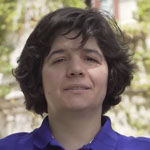 Professor of Green Volunteering: How to Be Green in Everyday Life
Gara Mora Carrillo
Gara Mora Carrillo is an expert in scientific outreach. She has a Bachelor's Degree in Physics, specialised in Astrophysics, and a Master Degree in Science, Environment and Technology Communication and Outreach. Gara has done some research in the field of Astrophysics and she also has experience teaching General Science, Physics and Chemistry in Secondary Education in the United Kingdom. In 2009 she was the co-founder of a bookshop specialised in science outreach in Madrid (the first in Spain), "Aquí la Ciencia".