Interdisciplinary Learning Courses
Leadership and team management
Would you like to learn to lead and motivate? This subject is a journey in which you will awaken the natural leadership that you carry within. Even if you don't have a team to lead yet, you can start living and practicing to be the leader you will become in the future. We will learn the secrets that distinguish great motivational leaders.
We will work through dynamics, debates, cinema forums and real practical cases experienced by the professor throughout his career in an entertaining way. Together we will delve into the subject to obtain very useful lessons for your future, both professionally and personally.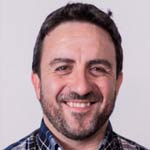 Professor of Leadership and team management
Fernando Sanz Ordoñez
Fernando Sanz is a Telecommunications Engineer from the Polytechnic University of Madrid and has an MBA from the Instituto de Empresa (IE Business School). Entrepreneur by nature, he has 20 years of professional experience working in international technology companies, occupying top-level management positions and leading teams of over 600 people. In addition, he has been trained by the best teachers in different master's degrees and disciplines related to Coaching and NLP, working as a Coach and trainer for more than 8 years. His passion for teaching has led him to becoming a professor at the Nebrija Institute of Professional Competences. As a consultant and trainer, he helps companies and their leaders to learn to relate and connect with their teams, motivate them and get the best out of each person, to turn them into great leaders.