This is a theoretical-practical course in which students will be aware of the importance of creating and presenting a good personal image both in their daily life and in their professional life. They will learn to develop the necessary tools to improve their personal brand, their external image, their attitude and their communication.
When they finish the course, they will feel more comfortable in their own skin, they will have learned the importance not only of the first impression, but also of the continuous memory that we leave on others. People who have a defined personal brand and present a suitable image, have a great business card and greater ability to lead themselves and others.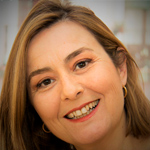 Professor of Project a good image
Rocío del Cerro de Utrilla
PhD in Sociology. She graduated in journalism and in political science. She has been in radio and television for over 25 years as a news presenter, war, politics and society reporter. Panelist. Information and program coordinator. Professor and consultant of communication, brand, entrepreneurship and business. Author of Reciclados y Encendiendo Focos.