This Stress Management course will provide you with new keys to understanding that stress is an adaptive process, which sets in motion response mechanisms that will allow us to cope with the changes that occur in all areas of our life.
You will understand when stress turns negative and why there are people with a high resistance to stress. You will learn to identify how your body experiences stress, and what thoughts and emotions feed it. You will know what situations can be potentially stressful and how to deal with them. In short, learn to make stress your ally.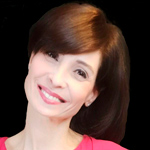 Professor of Stress Management
Roly Navlet
Roly Navlet has a Bachelor-s degree in Psychology from the Complutense University of Madrid and a PhD in Psychology from the same university, where she presented her doctoral thesis on anxiety, stress and coping strategies in the sports field. In terms of stress management, she has worked for different sports organizations, such as the Royal Spanish Athletics Federation and the Club Atlético de Madrid, and public bodies such as the Fire Department of the Community of Madrid. In addition, she has developed and taught specific training on work-related stress management for companies and private organizations. For years, she combined her work as a clinician with university teaching, teaching the subject of Anxiety and Stress in the Bachelor-s degree in Psychology at the San Pablo CEU University College, attached to the Complutense University of Madrid. She is currently a professor at Nebrija University's Institute of Professional Competences and a consultant specialized in the development of Soft Skills, Non-Verbal Communication and Relational Intelligence.