The most important qualities that an actor and a leader need to develop are communication and improvisation.
Improvisation is a means to develop leadership skills allowing one to react to the adversities that are common in the business environment.
Theatrical techniques through improvisation are very useful
it comes to acquiring confidence, as they cultivate self-assurance, intuition, persuasion, listening and communication. It also develops imagination and creativity, which frees the mind and gives rise to innovation. Improvisation also provides flexibility and adaptability, which are necessary and highly valued aspects in any team leader.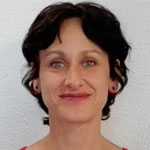 Professor of Theater improvisation
Mª Soledad Ardoy Solench
Licenciada en interpretación y titulada en escenografía por la Real Escuela Superior de Arte Dramático de Madrid (RESAD). Máster en Artes Escénicas por la Universidad Rey Juan Carlos de Madrid. Amplía su formación asistiendo a cursos de danza, clown, improvisación, canto e interpretación. Desde 1990 desarrolla su actividad artística como actriz en diversas compañías profesionales de teatro, series de TV y cortometrajes. Ha sido miembro cofundador de las compañías de teatro independiente: "La Danaus", "Torrijas de cerdo", "Psycuencia", "Teatro del paso" y "ZZZ"; guionista y actriz en el programa "La Noche Tuerta" (Tele_K) y guionista y actriz radiofónica en "El abordaje tuerto" emitido en "Carne cruda" (Radio 3 y Cadena Ser). Experiencia docente en diferentes centros e instituciones como el Liceo Frances, Escuela municipal de teatro de Madrid, Universidad Nebrija, Aula T de Teatro, Fundación Gotze y Escuelas municipales de música, entre otras.