Interdisciplinary Learning Coursess
Utopia, Dystopia, and Science Fiction
This course will explore in detail the fascinating genres of science fiction (SF), utopia and dystopia as they emerge in different media forms, from literature and film to television series and graphic novels. After contextualizing utopia/dystopia as subgenres of SF, each week we will analyze and debate different, exemplary cases, from classics of the genre to the most innovative, cutting-edge work of today. From space travel to cyborgs to pandemics and post-apocalyptic futures, we will immerse ourselves in the speculative worlds which continue to capture the imagination of people worldwide.
Alongside our direct engagement with the selected texts and films, in this course we will also explore the historical contexts for the popularity of the different genres of science fiction, utopia and dystopia. Why are utopias more popular in the early 20th century, and why do dystopias suddenly gain in popularity in the 1980s? What shifts in cultural anxieties can we trace in the evolution of SF and dystopia from the 1980s to today? Together we will work to find answers to questions such as these, expanding our ability to critically evaluate works of art, as well as to understand the radical potential inherent in these forms.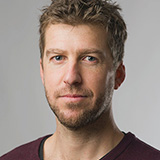 Professor of Utopia, Dystopia, and Science Fiction
Trevor Westmoreland
California native with a lifelong interest in the speculative worlds of science fiction, fantasy and utopia/dystopia. Holds a BA in English literature from UC Santa Barbara and a Masters in Literary Studies from the Universidad Autónoma de Madrid, currently in the final stages of a doctoral thesis at the UAM on the function of space and time in contemporary American novels. Has several publications related to both literary spaces and the liminal, and is an organizer of an annual seminar on literature and liminality. Fields of interest include questions of space and time, ontology, gender, utopia/dystopia and critical theory. As a teacher of language, has over ten years of experience and is mostly recently associated with the University Francisco de Vitoria and the ILM of the Universidad Antonio de Nebrija. Has also given workshops related to the process of investigation for TFGs and TFMs as well as academic writing in English for researchers and university professors.