Interdisciplinary Learning Courses
Wearables. Textiles and new technologies
IThe future of art and fashion is in allying themselves with science. 3D printers, smart fibers, interactive clothing... these are some of the technological innovations that architecture, art and fashion are currently exploring.
In these lectures, the protagonists are ultra-fine and ultra-sensitive materials and garments that behave like technological skins. We will review some outstanding examples such as the proposals of Behnez Farahi, Caress the Gaze and the Chinese designer Yin Gao and her line Incertitudes (Uncertainties).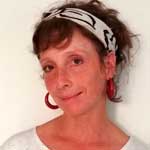 Professor of Wearables. Textiles and new technologies
Elisabeth Lorenzi
PhD cum laude in Art History from the Complutense University of Madrid; Professor accredited by ANECA; DAS (Diploma of Advanced Studies) in Contemporary Art History and Associate's Degree in Painting Restoration from the Istituto per l'Arte e il Restauro of Florence. For five years, she has directed the Master's Degree in Art Market and Related Business Management and the Course on Expert-Appraiser in Works of Art. In addition to being a professor of said master's degree, she is a visiting professor in the Master's Degree in Ephemeral Architecture at ETSAM and in the Master's Degree in Communication for Fashion and Beauty Vogue-Carlos III University of Madrid. Angoso has received awards (Innovation in research, Case Western Reserve University, 2013), scholarships (Socrates-Erasmus Mobility, Institut Supérieur de Gestion, Paris, 2010), has coordinated exhibitions (Hormigón Armado, Ministry of Public Works, 2010), and she is the co-author of publications (Técnicas Artísticas, Akal/Thyssen Museum, 2005). She has experience in the field of the art market as director at the Elba Benítez Gallery and as a cataloger at Fernando Durán Subastas.