> Español
Transversal Subjects
Creativity, Innovation and Entrepreneurship Techniques
Behind a great business, there is a great idea. And behind that great idea is someone who used one of these techniques to get there
Si ahora mismo estás leyendo esto es porque sientes curiosidad por las ideas y el emprendimiento. Pues a eso nos vamos a dedicar en esta asignatura. A través de juegos, ejercicios, análisis y la participación de todos, conocerás las técnicas y procesos más comunes del mundo empresarial para el desarrollo de ideas que, en algún momento, pueden llegar a convertirse en negocios de éxito. Una asignatura viva y dinámica que te ayudará a desarrollar tu capacidad creativa, ahora y en tu futuro profesional.
---
Learning Goals
Know different techniques for the development of new ideas.
Know how to identify problems or needs and find the best solution.
Develop a critical spirit.
Improve dialectical and oratorical ability.
Learn to work together.
Subject Contents
Creativity, Innovation and Entrepreneurship Techniques.
Module 1: Introduction to creativity. Are you creative?
Module 2: Brainstorming
Module 3: Map of empathy
Module 4: Trends: find the treasure
Module 5: Lateral thinking
Module 6: Provocations
Module 7: The Six De Bono Hats
Module 8: Design thinking
Module 9: SCAMPER
Module 10: The bright side of life: the product in value
Module 11: Insights and Positioning
Module 12: Ishikawa Diagram
Module 13: Pareto Chart, 5M
Module 14: Lean StartUp: Gemba Walk, Circle of Ohno, 5W
Module 15: Lotus Flower
Module 16: Inspiration: Looking for Muses
---
Professor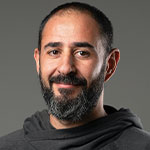 Profesor of Creativity, Innovation and Entrepreneurship Techniques.
Javier Díaz-Masa Gutiérrez