In order to lead an audiovisual project, the industry is looking for multi-skilled professionals who master and know all the fields and aspects of the sector, and who have extensive knowledge of production processes.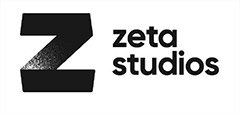 ZETA STUDIOS STUDIOS is a Spanish production company with a long international history that encompasses projects with a clear commercial ambition, without neglecting cultural commitment and innovation. The global vision of the market, the ability to anticipate demand, and the general knowledge of the environment, has allowed them to reach all sectors of the public.
The diversity of projects they carried out has allowed them to establish relationships and collaborate with all platforms, televisions, distributors, suppliers, etc., which positioned them in the sector, and provided them with sufficient agility to find synergies that make it possible to successfully complete any project.
As a result of their experience in creative production work, ZETA STUDIOS is also geared towards providing production services to foreign companies interested in shooting in Spain, who can benefit from their knowledge of the sector and the advantages of shooting in our country, either because of its landscapes, the climate, the professionals or the fiscal incentives. These commissioned productions have the dedication and advice of their team, and all the means at their disposal.
Among the most recent projects are the production of the series Reyes de la noche for Movistar+; Elite, which is a phenomenon both nationally and internationally, for the Netflix platform; the feature film Sounds Like Love, a film adaptation of the novels by Elísabet Benavent, and The Neighbor, the first Netflix original comedy in Spain.
Currently in the shooting or post-production phase are García!, a series produced for HBOMax, and Sin Huellas, a fiction series for Amazon Prime Video.
Among their most relevant projects in cinema, stand out, among others, Superlópez by Javier Ruiz Caldera, one of their most ambitious and most commercially successful projects for the company; the award-winning and recognized by world critics Sunday's Illness by Ramón Salazar; The Silence of the Marsh by Marc Vigil, Smoke & Mirrors, directed by Alberto Rodríguez; It's Now or Never, the romantic comedy by María Ripoll, and the franchise Three Steps Above Heaven and I Want You, film adaptations of the novels by Federico Moccia, whose box office success still places them among the most successful in the history of Spanish cinema.