On May 5, 200, the Faculty of Social Sciences at Nebrija University held it 18th Research Seminar in collaboration with INNOMEDIA and SEGERICO research group on "Mediatized Discourses on Europeanization: Old and New Challenges for the EU". 
The seminar presented "MEDIATIZED EU – Mediatized Discourses on Europeanization and their Representation in Public Perceptions", a research project financed by the European Union's H2020 Research and Innovation programme. MEDIATIZED EU aims to study how the media discourses are constructed to foster or hamper the European project and how they resonate among the public by focusing on the elite-media-public triangle. MEDIATIZED EU covers 7 target countries: Belgium, Estonia, Georgia, Hungary, Ireland, Portugal, and Spain.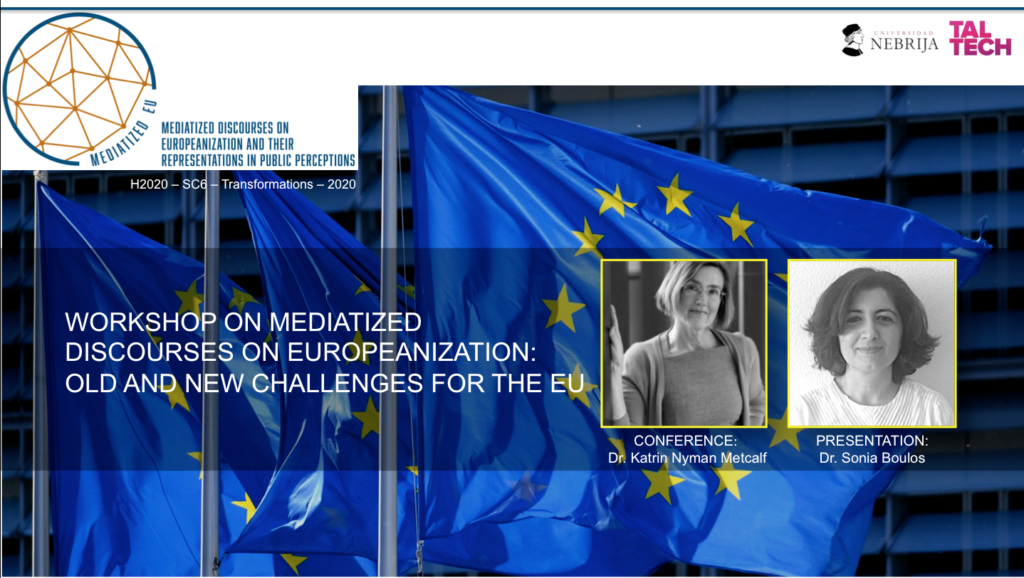 Dr. Sonia Boulos from the University of Nebrija opened the seminar by presenting the research design of Mediatized EU, and the research tasks that have been completed so far with a particular emphasis on the research design adopted by the Nebrija's team for selecting media outlets for analysis. The critical discourse analysis of media discourses on the EU is one of the major research objectives of MEDIATIZED EU, and it will be finalized in June 2022 and subsequently presented to the European Union.
Dr. Katrin Nyman Metcalf, from Tallinn University of Technology, presented some of the findings of an initial policy scoping report, prepared by Nebrija and Tallinn University of Technology, based on a desk research that was carried out in all target countries in the context of the project. Dr. Nyman Metcalf discussed the challenges that the EU faces with the emergence of new media landscape. With social media having an increasing role, the dangers of disinformation and "fake news" are becoming more evident, given the vulnerabilities of social media and the potential for its manipulation. Many countries have developed tools for dealing with this phenomenon. Dr. Nyman Metcalf discussed the efficiency of the tools that exist and why different tools emerge in different countries and what may be the way forward.
Dr. Katrin Nyman Metcalf is a Professor of Communications Law, Tallinn University of Technology. She is an expert in cyber security, e-governance, human rights in the digital environment and outer space law. She is Senior Legal Expert at the Estonian e-Governance Academy and Chairman of the Supervisory Board of the Estonian Human Rights Centre.
Dr. Sonia Boulos is a professor of international law at the University of Nebrija. Her main line of research is international human rights law and international law and the use of force. She serves as the PI for Nebrija's research team in MEDIATOZED EU.