> Español
International Nebrija
From the Department of International University Development and the International Mobility Office we work to expand the institutional relations of Nebrija University around the world, with the aim of consolidating our university as an international institution that provides our students and teachers with a global vision of the context.
Teams
---
Nebrija in numbers
---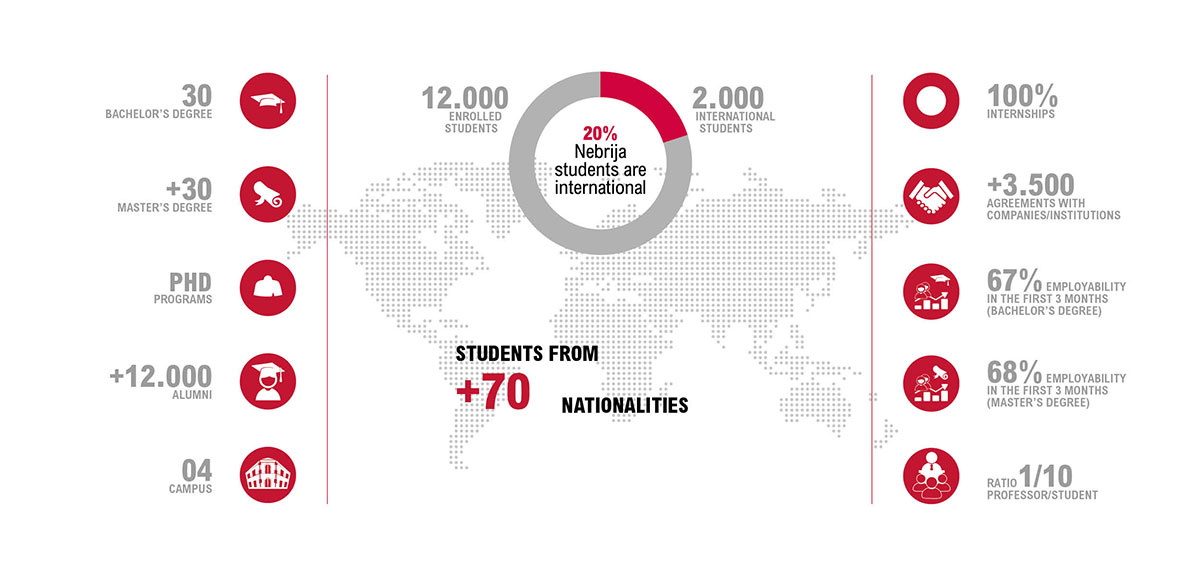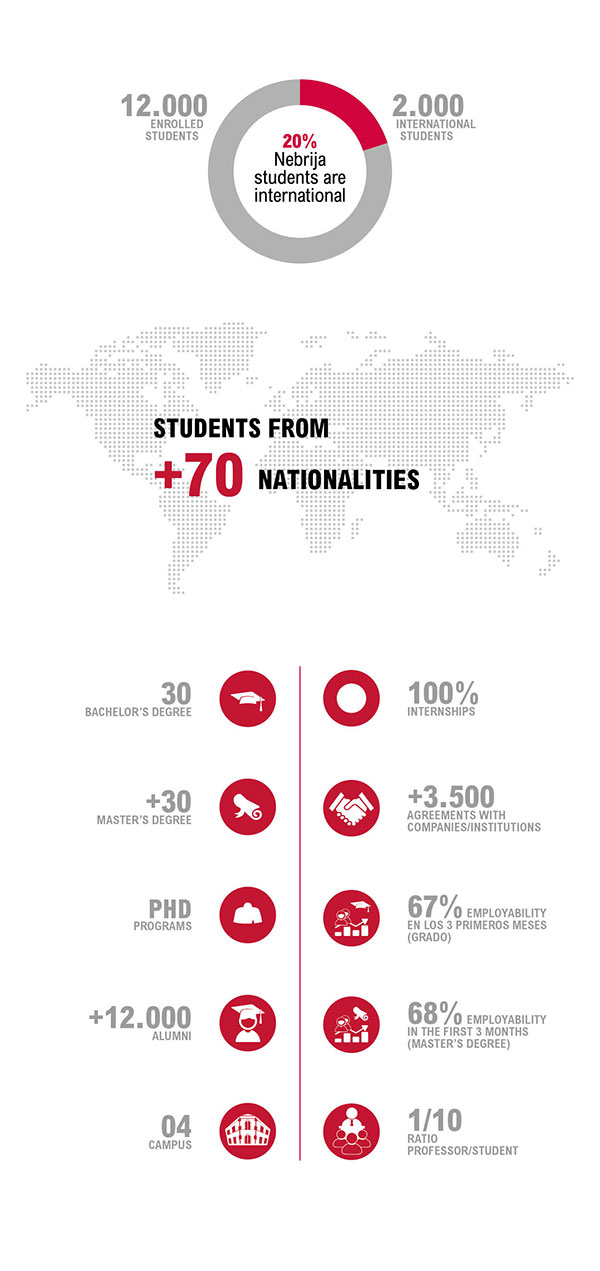 ---
International agreements
Nebrija University has signed agreements with institutions throughout the world.
Discover all the International Agreements
GERMANY
EBC Hochschule Berlin
Hochschule der Populären Künste
Hochschule für Bildende Künste Dresden
Hochschule für Künste im Sozialen Ottersberg
Hochschule München
Fachhochschule Münster
Karlshochschule International University
Pädagogische Hochschule Freiburg
Technische Hochschule Deggendorf
Technische Hochschule Ingolstadt
ARGENTINA
Universidad de Ciencias Empresariales y Sociales (UCES)
AUSTRALIA
University of Technology Sydney (UTS)
BÉLGICA
Arteveldehogeschool
Institut Supérieur de Traducteurs et Interprètes (ISTI)
KU Leuven
Universiteit Gent
BRASIL
Escola Superior de Propaganda e Marketing (ESPM)
Pontifícia Universidade Católica do Rio de Janeiro (PUC-Río)
Universidade Positivo
Universidade de Ribeirão Preto
Centro Paula Souza
CANADA
Carleton University
University of the Fraser Valley
CHILE
Pontificia Universidad Católica de Chile
Universidad del Desarrollo
Universidad Finis Terrae
Universidad del Pacífico
CHINA
Shanghái International Studies University
East China Normal University
Beijín Foreign Studies University
South China Business College Guangdong University of Foreign Studies
Jiangsu Second Normal University
South China Business College Guangdong University of Foreign studies
Shanghai Business School
Shanghai Industry & Commerce Foreign Language College
Lingnan University
Shanghai University of Electric Power
South China Agricultural University
COLOMBIA
Escuela de Guerra
Universidad EAFIT
Pontificia Universidad Javeriana
Universidad de los Andes
Universidad del Norte
Universidad del Rosario
Universidad Militar Nueva Granada
Universidad Nacional de Colombia
Universidad de la Sabana
Universidad ICESI
SOUTH COREA
Ajou University
Duksung Women's University
Hankuk University of Foreign Studies (HUFS)
Konkuk University
Kookmin University
Seoul National University of Science and Technology (Seoultech)
DENMARK
Copenhagen Business School
Danish School of Media and Journalism
Metropolitan University College
University College Sjælland
ESTONIA
Tartu Health Care College
FINLANDIA
HAMK University of Applied Sciences
Kymenlaakso University of Applied Sciences
UNITED STATES
Belmont University
Drake University
Drexel University
Hamilton College
Hunter College
Illinois State University
Kalamazoo College
Lock Haven University
Marshall University
Montclair State University
Ohio Northern University
Puget Sound University
Purchase College (SUNY)
Rhodes College
Rider University
San Diego State University
Southeast Missouri State University
St. Norbert College
University of Arkansas
University of Houston
University of Miami
Villanova University
Washington College
FRANCE
EBS Paris Business School
École La Mache
École Supérieure Nationale d'Art Limoges
EM Normandie
L'Université Paris-Sorbonne
ECUADOR
Universidad del Pacífico
Universidad Católica de Santiago de Guayaquil.
HONG KONG
IRAN
Allameh Tabatabai University
Bahar Institute of Higher Education
Islamic Azad University،Science and Research Branch
IRELANDA
Dublin Business School
Griffith Collage
University of Limerick
ITALY
Università degli Studi del Molise
Università degli Studi di Ferrara
Università degli Studi di Modena e Reggio Emilia
Università degli Studi di Roma La Sapienza
Università degli Studi di Salerno Università di Roma Tor Vergata
Università degli Studi di Udine
Università di Bologna (Campus Rimini)
JAPAN
LETONIA
Baltic International Academy
LITUANIA
Vilniaus kolegija/University of Applied Sciences
Vilnius Academy of Arts
MEXICO
CENTRO
Escuela Bancaria y Comercial
Tecnológico de Monterrey, Campus Puebla (ITESM-Puebla)
Instituto Tecnológico Autónomo de México
Instituto Tecnológico y de Estudios Superiores de Occidente
Universidad Anáhuac
Universidad Autónoma de Guadalajara
Universidad Autónoma de Chiapas
Universidad Claustro de Sor Juana
Universidad El Colegio de México
Universidad Iberoamericana, D.F.
Universidad Iberoamericana, León
Universidad Iberoamericana, Puebla
Universidad Jesuita de Guadalajara (ITESO)
Universidad La Salle, D.F.
Universidad La Salle, Morelia
Universidad Marista de Mérida
Universidad de Monterrey (UDEM)
Universidad Panamericana
Universidad Tecmilenio
NEDERLAND
De Haagse Hogeschool (HEBO)
Fontys Hogescholen
Hanze University of Applied
Sciences (Groningen)
Hogeschool Utrecht
Rotterdam University
PERU
Universidad Peruana de Ciencias Aplicadas
Universidad de Lima
Universidad San Ignacio de Loyola
Universidad San Martín de Porres
Universidad del Pacifico
PORTUGAL
Escola Superior de Enfermagem S. José de Cluny
Universidade Católica Portuguesa-Instituto Ciências da Saúde
Universidade de Coimbra
Universidade de Évora
UNITED KINGDOM
Keele University
Oxford Brookes University
Regent's University London
University of East Anglia
University of Liverpool
University of Portsmouth
University of Roehampton
University of Salford
REPÚBLICA DOMINICANA
Universidad Iberoamericana (UNIBE).
Pontificia Universidad Católica Madre y Maestra (PUCMM).
Universidad UNAPEC.
Ministerio de Educación Superior Ciencia y Tecnología (MESCYT).
Ministerio de Turismo.
Banco Interamericano de Desarrollo (BID).
Instituto Superior para la Defensa "General Juan Pablo Duarte y Díez" (INSUDE).
PUERTO RICO
Universidad Interamericana de Puerto Rico.
Universidad Sistema Ana G. Méndez.
NICARAGUA
EL SALVADOR
Universidad Dr. José Matías Delgado.
HONDURAS
Universidad San Pedro Sula.
SWEDEN
SWITZERLAND
Haute École de Gestion de Genève
THAILAND
Chulalongkorn University
National Institute of Development Administration (NIDA)
TURQUEY
Ankara Üniversitesi
Istanbul Aydin Üniversitesi
Istanbul Ticaret Üniversitesi
---
Nebrija in Rankings
The commitment of Nebrija University with academic excellence, training in leading companies, innovation in multidisciplinary programs and international education place Nebrija University in the top positions of the most important university rankings.
Discover all the Awards / Rankings