After the approval of the Organic Law 3/2018, which establishes the obligation in certain sectors to have a Data Protection delegate, the demand for professionals of this type has experienced a considerable increase. In addition, companies must accredit due diligence and the measures adopted to mitigate possible risks regarding the processing of personal data and their exploitation.
In response to this business and social need, Nebrija University's Master's Degree in Data Protection and Security was created. The curriculum has been designed with a multidisciplinary approach, providing a global vision that facilitates the approach to the branches of knowledge of law, security, technology and innovation. A clear commitment of the University to the promotion of employability of its students.
Eloy Velasco, magistrate of the National Court, Óscar de la Cruz, Commander in Chief of the Computer Crimes Group of the Civil Guard, and Cecilia Álvarez, Head of Privacy in Europe at Facebook, are some of the brilliant professors who make up the faculty of this master's degree. Learn about all the professors of the Master's Degree in Data Protection and Security here.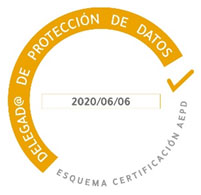 Recognized program within the DPD-AEPD scheme
The Master's Degree in Data Protection and Security is recognized as a program to access certification as a Data Protection Officer (DPO) under the DPD-AEPD scheme, by the Center for Registration and Certification of Persons . Nebrija University undertakes to comply with the Code of Ethics of the DPD-AEPD Scheme.
The objective of this master's degree is to provide future professionals with the necessary competences and skills to be able to work in Spain and in any other international territory. For this, Nebrija University offers its expert faculty consisting of doctors and professionals with a long professional career.
In addition, part of the classes will be taught at ECIJA Abogados, DA Lawyers, Roca Junyent, Hogan Lovells, ONTIER, Health Department of the Community of Madrid, Airbus BizLab, Reale Seguros, Huawei Technologies and the Royal Academy of Jurisprudence, which will provide the student with a greater approach to the legal, administrative and business sector.
Program duration: 225 hours within the 1,500 hours of the Master's degree
Program teaching modality: Blended (class attendance + online classes)
Date of recognition: June 6, 2020
Program delivery date: November 2019-December 2020
Pass criteria: Successful completion of the master's degree by performing the directed activities, carrying out practical cases, passing the final exams and passing the Master's Degree Final Research Project.
Read Less