Pioneer program in training teachers
Antonio de Nebrija University presents its new Doctorate Programme, called Doctorate in Applied Linguistics to Language Teaching, that comes up in a scientific, economic and social context characterized by the need to develop the multilingual competency of citizens.
In this respect, this programme aims to develop a line of research focused on applied linguistics to teaching based on the following subjects: Language acquisition and language learning, Sociolinguistics and Language Pragmatics, Linguistic Policies and their relationship with the learning of second, foreign languages or the bilingual condition, Corpus Linguistics, Evaluation and certification of linguistic competence or Professional application of the multilingual condition.
Training activities

The training is complemented by research seminars, expert conferences, monographic seminars and practical application workshops.
Updated program

The Doctorate in Linguistics applied to the teaching of languages is fully adapted to RD 99/2011, which regulates the new official doctorate teachings.
Limited places

Due to the high demand and the search for a personalized follow-up of all doctoral students, only 10 places are offered each academic year.
Applicants' profile
The criteria to access the Doctorate Programme are described in the following section, and are those set by law to that effect. Therefore, any candidate meeting those criteria should have legal access to the programme. Nevertheless, the recommended profile is defined below, which fits better with the priority research areas defined in the programme:
The recommended profile is that which access Doctorate after completing a University Master in Applied Linguistics to Language Teaching. Students who have completed the University Master in Applied Linguistics to the Teaching of Spanish as a Foreign Language or the University Master in Bilingual Education given at the Department of Applied Languages in Nebrija University, will have access to the programme. as their respective End-of-Master Projects are already aimed to the Doctorate Programme research lines. The programme can also be accessed once completed any official Master in Applied Linguistics to Language Teaching, Language Acquisition, Bilingualism and similar qualifications, no matter the university where it has been studied, as long as the end-of-master project has a research approach..
A second acceptable profile would be that coming from an official Master in other linguistic subjects, especially if the study area covered in the end-of-master project is similar to those related to our programme. In this case, the candidate can be offered some complementary training in research methodology in applied linguistics according to the lack of skills determined by the Academic Commission of the Doctorate Programme.
A third eligible profile would be that coming from qualifications prior to RD 1393/2007 (Graduate). If admitted, the candidate would also have to study those formative complements according to what is set by the Academic Commission of the Doctorate Programme.
Moreover, every candidate for the research period in order to elaborate the doctoral thesis should:
Prove the acquisition of the research competencies of the Master in Applied Linguistics to the Teaching of Spanish as a Foreign Language (the Master syllabus should be sent in case it was not studied at Nebrija University, altogether with the corresponding academic record and a cover letter from the Master Director/Tutor, and a pdf copy of the end-of-master project.)
Show a C1 level in the language object of research (Spanish in the case of Applied Linguistics to Spanish Teaching, and English in the case of Applied Linguistics to English Teaching), and a B2 level in the working language of the formative complements they have to carry out, in case they are required, and other formative activities.
Be called for a personal interview with the academic coordinator of the Doctorate Programme. This interview can be held by video conference for those candidates living abroad.
It is highly recommendable, but not indispensable, that candidates to this Doctorate Programme have some teaching experience, especially in foreign language teaching.
Number of places offered
10 places (per academic year)
Access dates for the 2019-2020 academic year
Application admission: from 1 to 25 October 2019.
Enrolment Period: from 11 November to 13 December 2019
Starts: January 2020.
Admission requirements and criteria
In general, in order to access an official Doctorate Programme, it is necessary to own an official Spanish qualification/degree or equivalent, and a University Master. Furthermore, those candidates meeting the following cases will be also admitted:
a) To own an official Spanish qualification/ degree, or from any other Member of the European Higher Education Area (EHEA), which enables the access to Master studies according to the article 16 of the Royal Decree 1393/2007, of the 29th October, and have passed a minimum 300 ECTS credits in their University official studies, 60 of which must belong to the Master level..
b) To own an official Spanish degree qualification with a duration of at least 300 ECTS credits, according to the regulations of the European Community Law. These graduates will have to study mandatory complementary training mentioned in article 7.2 of the RD 99/2011, unless the degree's syllabus includes credits on research training, equivalent in educational value to those research credits belonging to Master studies.
c) Those university graduates who, having obtained a seat in the corresponding entrance test to specialized health care training, have been positively assessed for at least two training years in a programme leading to the attainment of an official qualification in any health care speciality.
d) To own a qualification gained according to the different foreign education systems with no type approval required, prior verification by the University of an accreditation corresponding to an equivalent training level to that of the Spanish official University Master, which enables access to Doctorate Studies in the issuing country. This admission will not involve the type approval of this prior qualification in the possession of the applicant concerned, nor its recognition for any other case but access to doctoral training.
e) To own another Spanish Doctorate qualification, gained according to the above mentioned University regulations.
f) To own a bachelor's, engineer or architect degree/qualification, all of them prior to the RD 1393/2007 regulation, according to what is established in the regulations on equivalence of Spanish official degrees prior to those regulated y the Royal Decree 1393/2007, 29th October, pertaining the access to official Doctorate studies, regulated by the RD 99/2011, approved by the Government Commission of Antonio de Nebrija University, on 19th January, 2016.
It has been set the following scale to grant access to the above mentioned Doctorate Programmes:
(60%) Curriculum Vitae and pre-doctorate training of the applicant. CV will be especially assessed, altogether with the Master syllabus, the academic record gained in Master studies, and the end-of-master project (or equivalent research project).
(20%) Personal interview with the Doctorate Programme Coordinator, in which a justificatory report will be provided by the applicant. The interview will be about the applicant's pre-doctoral academic studies, their training on research methodology, their research and professional experience in the field of language teaching, their research interests, and their skills in the English and/or Spanish languages. This interview could be carried out by telematic means in case the candidate living abroad.
(20%) Suitability of the applicant's profile for any of the research areas of the LAELE group (among those included in the OTRI register of research groups), taking into account the applicant's pre-doctoral training and research interests.
Application
Updated Curriculum Vitae/Résumé
Certified copy of the graduate degree (or B.A.)*
Certified copy of the official Master Degree
Certified copy of the Master's syllabus (or similar document)*
Photocopy of the ID card (Spaniards) or Passport (international students)
A passport-size photo
A pdf copy of the end-of-master/Diploma in Advanced Studies project (when applicable)
A letter of recommendation (from the end-of-master director or any other person with research experience.)
Proof of work activity (in case of application for part-time admission)

* Regarding non-European diplomas: authenticated by the embassy with the apostille of the Hague
Candidates should send their application and all the above mentioned documentation by postal mail to:
Anna Doquin de Saint-Preux
Doctorate in Applied Linguistics to Language Teaching
Departamento de Lenguas Aplicadas
Campus de Madrid-Princesa
Santa Cruz de Marcenado, 27
28015 Madrid
91 452 11 00.
And by email to: doctorado.la@nebrija.es
Complementary training
Doctoral candidates with the recommended or acceptable profiles holding the needed qualifications to enrol in this Doctorate Programme and who have been admitted, but without enough specific training on Research Methodology in Applied Linguistics, should fulfil complementary training actions to their previous studies, up to a maximum of 12 ECTS credits (between 4 and 12, depending on their profile). This specific complementary training is mandatory for those students who access the Doctorate Programme with a graduate degree of at least 300 ECTS credits, unless the syllabus includes Research Methodology credits equivalent to those of a Master course or those accessing with a B.A. qualification (qualifications prior to RD 1393/2007)
The criteria and procedures applied to assess whether candidates have enough specific training on Research Methodology are the following:
Analysis of their curriculum vitae and syllabus from Level 7 studies (Master or Diploma in Advanced Studies).
Analysis and valuation of the research methodology carried out by candidates in their end-of-master/diploma project.
Master partial tuition (between 4 and 12 credits) is considered for those candidates without enough previous training on research methodology in Applied Linguistics. According to their previous formation, they will have to complete 4, 8 or 12 credits. Due to its complementary nature, these credits should be fulfilled by students in their first year of their Doctorate studies.
The three subjects proposed as complementary training are the following:
Check the information of:
Diploma en Metodología de Investigación en Lingüística Aplicada
Procedures and Assignment of Tutor and Thesis Director
Grants
Fees
Inscription fees: 1.235€
Annual supervision rights: 515€
Thesis deposit: 1.365€
Modalities
Full-time Students:
The duration of the doctoral studies will be a maximum of three years, full-time, starting at admission of the doctoral student into the program until the submission of the doctoral thesis. (If after the aforementioned period of three years the thesis has not been submitted, the commission responsible for the program may authorize the extension of this term for one more year, which could exceptionally be extended for another additional year, under the conditions that have been established in the corresponding doctoral program).
Part-time Students:
The academic commission responsible for the doctoral program may authorize the completion of part-time doctoral studies. To apply for this modality, the candidates will have to accredit some work activity. In this case, such studies may have a maximum duration of five years from admission into the program until the submission of the doctoral thesis. (If after the aforementioned deadline the thesis deposit has not been submitted, the commission responsible for the program may authorize the extension for two more years which, also, exceptionally, could be extended for another additional year.)
Research lines
Language acquisition and learning.
Sociolinguistics and language pragmatics.
Language policies and their relationship with the learning of second and foreign languages or acquisition of bilingual status.
Corpus linguistics.
Assessment and certification of linguistic proficiency.
Professional applications of the multilingual status.
Skills
Basic or general skills
CB11. Systematic understanding of a field of study and mastery of the skills and research methods related to that field.
CB12. Ability to conceive, design or create, implement and adopt a substantial research or creation process.
CB13. Capacity to contribute to expanding the frontiers of knowledge through original research.
CB14. Ability to carry out critical analysis, evaluation and synthesis of new and complex ideas.
CB15. Ability to communicate with the academic and scientific community and society at large about their fields of knowledge in the modes and languages commonly used in their international academic community.
CB16. Ability to foster, in academic and professional contexts, scientific, technological, social, artistic or cultural advancement within a knowledge-based society.
Personal aptitudes and skills
CA01. Make progress in contexts where there is little specific information.
CA02. Find the key questions that need to be answered to solve a complex problem.
CA03. Design, create, develop and undertake innovative and innovative projects in their field of knowledge.
CA04. Work both with a team and autonomously in an international or multidisciplinary context.
CA05. Integrate knowledge, address complexity and make judgements with limited information.
CA06. Criticism and intellectual defence of solutions.
Other skills
OC01. Understand and experiment with appropriate research methodologies to solve questions related to linguistics applied to the teaching of a language.
OC02. Innovate in the design of data collection tools and assessment resources for the different individual and contextual variables that influence the process of acquiring communicative language proficiency.
Training activities
Los doctorandos tendrán que cursar 125 horas de formación de las cuales 45 horas serán de la formación transversal (común a todos los doctorandos de la universidad) y 80 horas de la formación específica (del programa de doctorando en lingüística aplicada).
Formación transversal: el doctorando tendrá que realizar 16 horas de actividades obligatorias + 29 horas de actividades optativas.
Las 80 horas de formación específica son obligatorias.
La distribución de las actividades en la dedicación a tiempo completo tiene una lógica decreciente y concentrada en tres años, mientras que en el caso a tiempo parcial se distribuye a lo largo de cinco años de formación.
Main career pathways
Most of the doctors completing the Applied Linguistics programme become academics and researchers at Spanish and international universities.
We can mention the following universities where doctors graduating from the Universidad Nebrija's Applied Linguistics programme are currently working:
Università di Siena, Italia.
Università degli Studi 'G. d'Annunzio' di Chieti-Pescara, Italia.
Universidad Nebrija, Madrid.
University of East Anglia.
Universidad del País Vasco, Dpto. de Filología Vasca.
Wenzao Ursuline College of Languages (Kaohsiung City, Taiwan).
Universidad Tor Vergata.
Southern Utah University, EE.UU.
Columbia University.
Universidad LMU de Múnich.
Universidad Nacional y Kapodistriaca de Atenas.
Universidad L'Orientale de NapolesItalia.
Universidad de Trento, Facultad Filosofía y Letras, Italia.
Isla Campus Lisboa, Portugal.
Universidad Constantin Brancoveanu, ciudad Pitesti.
Universidad Paris-Sorbonne en Abu Dhabi, Emiratos Árabes Unidos.
Escuela de Comunicación ISCOM y Escuela de Comercio PYGYER.
Universidad de Showa, Japón.
Universidad de Washington.
Universidad de Lund, Sundsgymnasiet.
Testimonials
Dra Reyes Llopis
PhD in Applied Linguistics from Nebrija University, "Europeus Distinction". Professor at Columbia University, New York.
"Being a student of Nebrija -in the undergraduate degree of Languages Applied to Tourism, in the postgraduate degree of a Doctorate in Linguistics Applied to the Teaching of Spanish as a Foreign Language- has been a positive development for me, both personally and professionally. I have always had an unconditional support from professors and tutors, who aptly guided me in the choice of my academic interests. At Nebrija I learned human values that I apply successfully in my daily work. In the professional field, I have acquired a solid education that allows me to carry out my work as a Spanish teacher in an efficient way and look forward to new challenges to come".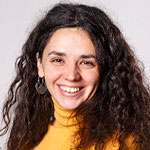 Cristina Herrero Fernandez
Researcher in Training

"The team of the Doctorate School and the Doctorate of Linguistics applied to the teaching of Languages not only provides us with the tools and helps us acquire the basic competences to be able to develop our doctoral thesis, but also cares about each one of its Doctoral students and provides a follow-up and accompaniment that makes us feel supported throughout the time we study and create our thesis."
Agreements
Universidade Estadual Paulista (UNESP)
Convención de colaboración para la realización de una Tesis Doctoral en régimen de cotutela internacional.
Convenio marco de colaboración en el ámbito de programas de doctorado.
Universidad de Salamanca (USAL)
Convenio marco de colaboración para el desarrollo de proyectos de colaboración científica y académica.
Convenio específico de colaboración al convenio marco.
Pontificia Universidad Javeriana de Bogotá
Acuerdo de participación en investigación interinstitucional
Shanghai International Studies
Convenio general de colaboración académica e intercambio
Wenzao Ursuline College of Languages
General Agreement of Academic Colaboration
CONTACT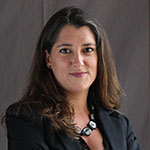 Dra Anna Doquin de Saint-Preux
Coordinator of the Doctorate in Applied Linguistics